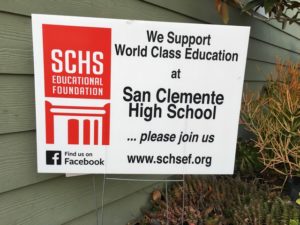 Each fall, in conjunction with our annual mail solicitation, SCEF places yard signs at the homes of our donors.  Additionally, we place window signs at the many business supporters of SCEF. The signs appear in October, and are left in place for one month Volunteers then collect and store the signs for future use to minimize overhead costs.
Our signs serve two purposes. First, we want to recognize the generosity and commitment of those who fund our programs to support education at San Clemente High School. If you saw a sign on someone's lawn or place of business, please take a minute to say "thanks".
Secondly, we hope to remind all who haven't donated that SCEF will do more to improve the opportunities of our SCHS students when funding allows. Our record setting fall donations indicate to us that we are on the right track.
This year 26 SCEF Board Members and volunteers placed and retrieved 407 yard signs and 163 window signs. We hope to place significantly more signs next year – please donate